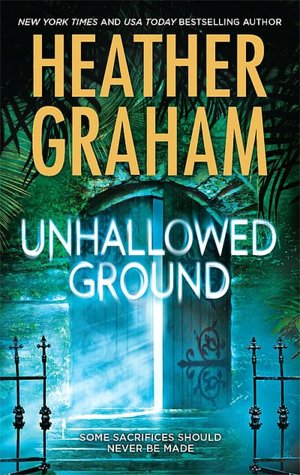 Unhallowed Ground
is the seventh book in Heather Graham's Harrison Investigation series, and it is amazing, to say the least. Sarah McKinley is a historian who moves into her childhood dream home, a large, historic house in St. Augustine, Florida. While renovating the home, tons of human skeletons are discovered in the walls, all of them many years old.
Caleb Anderson is a private investigator with Harrison Investigations who is in town to investigate the disappearance of a young girl who vanished a year ago. Another girl has also gone missing, and Caleb believes that the disappearances are connected.
Sarah and Caleb team up to try to solve the mystery of the disappearances and find out what happened in Sarah's house years ago. They uncover stories of withcraft and murder, and try to stay safe in the process.
I loved this book. The ending took me by suprise, it was a big twist, but I liked it. I have fallen for Heather Graham's writing. This is only the second book by her that I have read, but I love her style and how she develops her characters. It was never boring, and it didn't take me long to read because I never wanted to put it down! I definitely recommend this book to anyone who likes supernatural, kind of romance, mystery books; it was a great book.